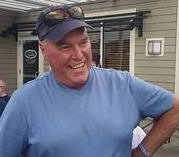 The 3rd Annual Brian Blood Memorial Golf Tournament was held on Monday, September 24th at Butter Brook Golf Club in Westford, MA.  The annual event is in honor of Brian Blood, who passed away after a short but courageous battle with esophageal cancer.
Prior to his passing, his family promised him they would hold an annual golf tournament in his honor, with the goal of raising money for esophageal cancer awareness and research.  This year, the tournament raised $12,500!  We are pleased to share that in three years, they have raised a total of $37,500 for esophageal research!
A special thank you to Gold Sponsors: Neuro Corporation, Devereaux LLC and Hillside Constructions and Silver Sponsors: University Orthopedics and Feeney Brother, Inc.
Thank you to the many other families and organizations who donated to the event and helped to make the day a success.
The Salgi Esophageal Cancer Research Foundation is honored to fulfill this mission in honor of Mr. Brian Blood and we are so thankful to his family and friends for their hard work, dedication, generosity and support!
Images via Blood Family.